Course Description
[Joe Defranco – Strong Bastard 911
Product Include : Webrip – 2 PDF, 34 MP4, 1 FLV
Product Size : 831.45 MB
Delivery : Digital Download Immediately
If you're a lifter, trainer, or coach struggling to build muscle, get stronger,
or transform your body, please know this:
Your lack of success in the gym is NOT because you don't train hard or you're not eating right…
No. The transformation you crave is being held up…because of something much more SIMPLE…
If you ARE ready…then let's get started changing your workouts forever.
Let me ask you a quick question:
Are your workouts boring? Or maybe, you're just tired of going into the gym and doing the same old exercises, the same rep schemes, and the same weights over-and-over?
Well, you're not alone!
Every lifter that steps into the gym and uses a -cookie-cutter program knows that it sucks hitting the same workouts week-after-week and not having any variety or progress in their training.
This can lead to the dreaded, -just going through the motions syndrome in the gym – making your workouts dull and unproductive.
The simple solution to achieving faster gains in the gym is variety in your training AND being totally committed to the program because you know that it was DESIGNED BY AND FOR YOU!
Let me ask you another question:
What if I told you that we have created a new training program that is backed by science, proven to get results, AND allows YOU to make changes to the workouts simply by using your favorite exercise variations every time you go through the program?
A Revolutionary New Approach To Training!
Enter the new STRONG BASTARD (SB911) program – the program designed for specifically for YOU!
The SB911 program is like nothing you've ever seen before! A -˜Choose Your Own Adventure' 11-week program that combines conjugate and linear periodization, along with, a high-intensity powerbuilding protocol, SB911 will help you transform your mind and body faster than you have ever experienced.
Breaking the mold of the world-famous original Westside for Skinny Bastards program, SB911 introduces 4 cutting-edge mini-cycles and a proven 4-day upper / lower split that will push you to your absolute limits and help you get the incredible RESULTS you've always wanted!
And, here is the best part, because of the dynamic -˜plug-and play' programming model, it will feel like a different program every time you do it!
Strong Bastard 911 Gets RESULTS
Initially, we only unleashed the Strong Bastard 911 program exclusively for the DeFranco Insiders (our membership site) but the results were so unbelievable, we knew we had to put the complete system together and offer it to the everyone!
The full SB911 workout program comes with the easy-to-understand and easy-to-follow main manual, the massive VIP SB911 video library, and the printable 11-week workout sheets!
Strong Bastard will give you everything you need to get started immediately and start crushing your workouts today!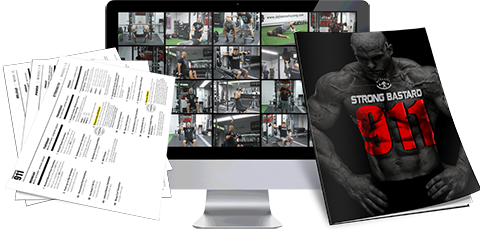 ---
It Will Work for YOU!
How do we know that Strong Bastard 911 is going to work for you? Because we have been testing, tweaking, and perfecting the program over the last year with our clients, athletes, and 100's of coaches, trainers, and lifters from all over the world have tested and re-tested the 11-week program inside of our exclusive members-only site.
Check out some of their amazing transformations!